Amber Heard Partying With Rumored Boyfriend Elon Musk Amid Johnny Depp Divorce
Amid the drama surrounding her and 's divorce, apparently had a little fun with rumored new boyfriend Elon Musk earlier this week. The pair, who sparked dating rumor last month, reunited for a night out at The Box club in London on Tuesday night, August 2.
That night, Heard flaunted her long legs in a black dress that she teamed with a black hat and ankle boots, while the billionaire looked casual in a gray shirt and a blue suit. The two were photographed exiting the venue with "" cast members and , who were in the city for the Wednesday premiere of the film.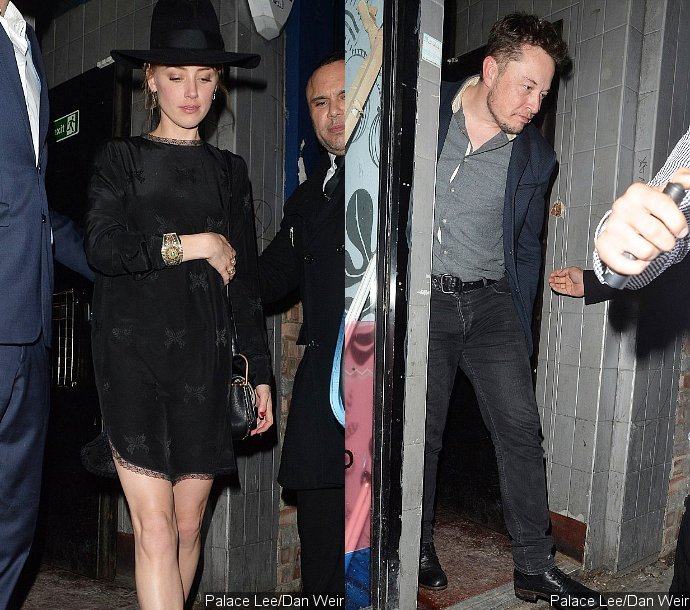 Heard and Musk were reported hanging out together a lot during their stay at the Delano Soth Beach in July. The actress, who was with her sister at the time, was seen multiple times entering and exiting his room. However, multiple sources have shot down rumors about her and the Tesla founder being an item.
"She has been friends with Elon for four years. She had rented a standard suite at the hotel, and he had a bungalow, a poolside duplex room. He offered Amber and her sister use of his room so they could use the pool and have extra privacy," said a source.
Another source added, "They all happened to be staying at the Delano. The group hung out at the hotel, rather than in public, understandably, due to all the recent press scrutiny."
Heard isn't the only one going through a divorce. Musk has also split from actress for the second time. Recently, Riley revealed in an interview that she hadn't ruled out possibility to rekindle the romance again.
"I mean, never say never," she told Daily Mail. "Marriage is a social construct, but I still believe in it. Elon and I are best friends. We still see each other all the time and take care of each other."