Gigi Hadid Goes Fully Naked for Vogue Magazine
dares to bare it all. The 20-year-old supermodel has posed fully naked for the cover of , in which she looked so stunning showing off her enviable curves.
The Victoria's Secret Angel was seen sitting on a wooden block with her legs crossed and her arm covering her boobs. The blonde beauty let her hair fall naturally as it covered one side of her face. She sported smokey eyes as she gazed provocatively at the camera. All she wore were only a pair of pointed heels, chunky bracelets and round earrings.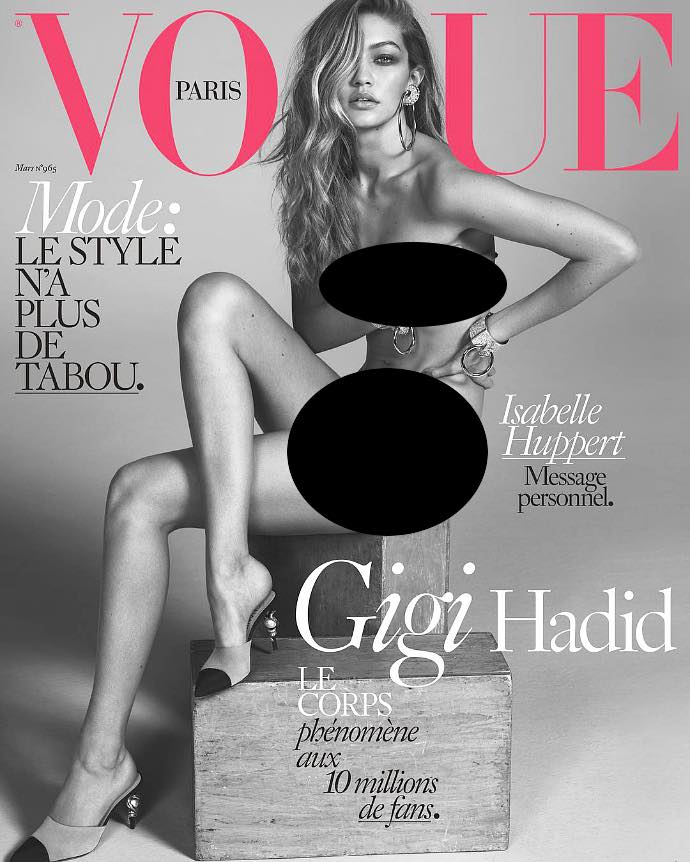 As this was Gigi's first cover for the magazine, she expressed her pride through Twitter. "What an honor and dream come true it is to be on the cover of French Vogue. Thank you so much," she wrote.
's BFF also uploaded on Instagram another snap from the photoshoot, in which she's much more covered-up. In the photo, Gigi looked beautiful as she donned an embellished pink jacket which she left opened to reveal her cleavage. She also wore some beaded necklaces and a pair of gold earrings.
However, there were some haters who criticized Gigi's look. Gigi's mom, Yolanda Foster, responded to the criticisms when she reposted the picture. "Social judgement can break down a young woman temporarily but a real WOMAN will always pick up the pieces, rebuild herself and come back stronger than ever," she wrote. "So proud of you my love for owning your authenticity on the cover of FRENCH VOGUE with class and grace."
Just days ago, Gigi, who is dating former member , went racy as she in a sexy snap for magazine. In another picture, she also revealed her underboobs as she's seen lifting her T-shirt up.