Iggy Azalea Goes Topless for Schon! Magazine, Blames Media for 'Psychotic Breakdown'
graces the cover of magazine's latest issue. She goes topless in the cover and strikes a series of seductive poses in the inside pages. In one image, she dons a sheer boned slip and a pair of briefs while covering her bare boobs with her hands.
In an interview with the magazine, the Australian femcee reveals the reason why she took a break from the spotlight last year and canceled her "Great Escape" tour. "I had to have a psychotic breakdown last year. I felt tired and stressed out," she says.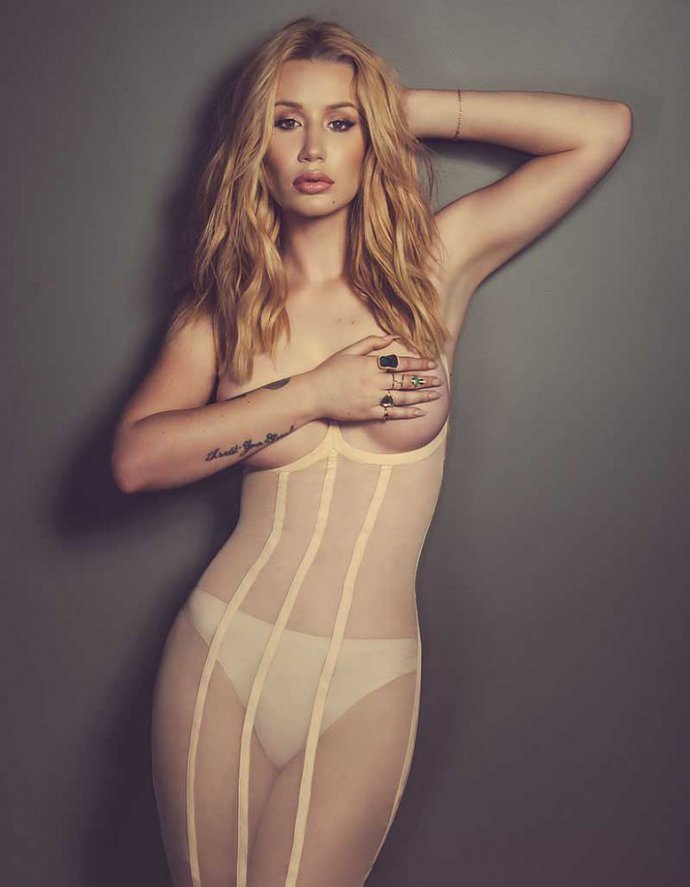 "Last year, I felt like I was definitely not in control of the media's narrative of me," the 25-year-old artist goes on claiming. "It made me feel very out of control of my own life or my ability to have my own perception of who I was. You don't want someone else writing your narrative and making you the villain."
Iggy is now ready to release her new album "", preceded by the release of its first single "Team" in a few days. "Now, I feel like my energy's renewed," she says. "I just realized that, you know what, you can't control it and I think I accepted that and moved on to living my life."
On planning her wedding with fiance , the "Black Widow" hitmaker shares, "I know where I'm getting married, and the date. I have my wedding dress being made. I've booked my honeymoon. I guess the plans underway, but I haven't made any major decisions, like I haven't picked the food or like done the table settings or flowers or any of that stuff yet."
She also admits the wedding preparation overwhelms her. "It's not that I've not been excited to plan my wedding, but I've just been so involved with my album. It's too much stuff! I've got to have a wedding and go on a f**king honey moon and…put on an arena tour, all across the whole world," she says.
After her pictures on Schon! are published online, she takes to Twitter to reveal the unedited version of one of the sexy shots. "love it, but i much prefer the picture before they photoshopped my thighs and hips to seem skinnier," she writes in the caption.

@IggySlaysUrFave love it, but i much prefer the picture before they photoshopped my thighs and hips to seem skinnier pic.twitter.com/6TfAA8gX9l

— IGGY AZALEA (@IGGYAZALEA) March 17, 2016