'Last Man on Earth' Premiere Features Surprise Cameo, Stages Mini 'Mad Men' Reunion
"" just gave Betty Draper a moment of retaliation. In case you're wondering how the FOX comedy could crossover with AMC's period drama "", here's a brief description of the season 3 premiere which aired on Sunday, September 25.
The season opener picked up where the season 2 finale left off, with the group, including Tandy (), Carol (), Melissa (), Todd (Mel Rodriguez), Erica (Cleopatra Coleman) and Gail (), under siege by three armed strangers at their Malibu residence. Panicked with no way to escape, the group decided to fight.
Melissa shot one of them almost immediately and as his hazmat helmet was taken off, it was revealed that the man under the suit was , who played Betty's cheating husband on "Mad Men". "We weren't gonna shoot you, we come in peace," Darrell (Hamm) said with his last breath, ending his short-lived guest stint.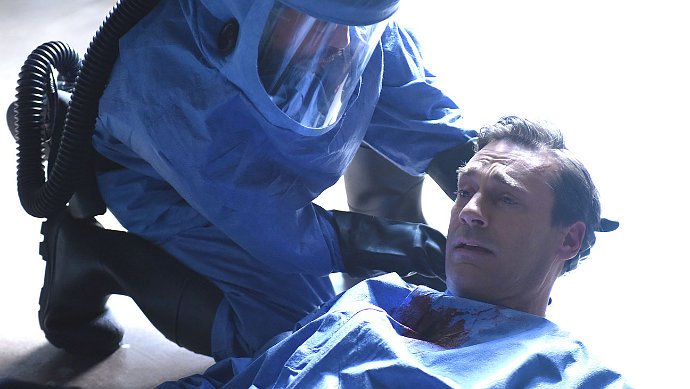 To EW, Will Forte claims he didn't think about the "Mad Men" connection when he asked Hamm to make cameo on the show. "It honestly had nothing to do with the 'Mad Men' connection," he says with a laugh. "He hosted 'SNL' a couple times while John Solomon and I were there, and we were lucky enough to get some [sketches on the air] so we got to know him a little bit. …"
He continues, "He's always up for little things like this. … So I called him up just to see if he had any interest. Hadn't really even thought about the 'Mad Men' connection, oddly enough. He said it sounded like fun, and I told our writers and they said, 'It's so crazy that Betty's going to shoot Don!' and I was like, 'Oh! That's right! Oh s**t!' [Laughs] We were just so busy working on stuff, my brain is always at about half-mast."
Forte thinks Hamm only agreed to do it because it's "a relatively small time commitment." He says, "I think if we hadn't killed him immediately, he probably wouldn't have done it." Of Jones' reaction when she's told about Hamm's cameo, he recalls, "Oh, she was excited. She saw the 'Mad Men' connection right away."
Asked about the possibility of having ' Mike back on the show this season, Forte says, "Very, very low odds. But we love making low-odds choices from time to time."
"The Last Man on Earth" airs Sundays at 9:30 P.M. ET/PT on FOX.