Lindsay Lohan Accidentally Flashes Nipple in Plunging Dress at a Party
suffered a serious wardrobe malfunction when attending a party in Sardinia, Italy. The singer/actress accidentally flashed her nipple while helping celebrate De Grisgono founder Fawaz Gruosi's 64th birthday at Hotel Cala di Volpe on the island's picturesque Porto-Cervo resort.
Lohan bared major cleavage in a low-cut blue dress which barely covered her right boob when she was posing for a photo with movie mogul Harvey Weinstein. She didn't seem to be aware of the incident as she widely smiled at the camera.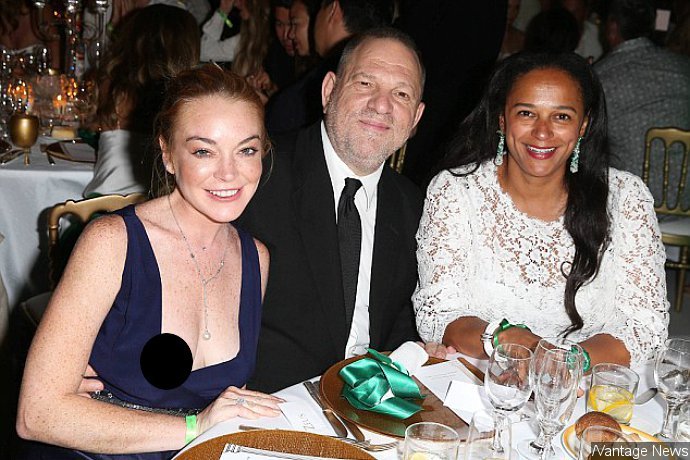 The 30-year-old beauty looked happy at the party. She was pictured talking to actor at one point before trading the dress for a more covered-up one and continuing to party with fellow guests including .
LiLo has been spending time in Italy since her big fight with Egor Tarabasov a few weeks ago. Recently, she with the 23-year-old businessman and hinted she no longer wanted to be with him.
"I wanted to make things work, but now I'm not sure that I can," she said in an interview with Daily Mail. "I realize now you can't stay in a relationship just for love. No woman can be hit and stay with that person if that person isn't prepared to say sorry."
"I need closure," she added. "I genuinely fell in love with him but he broke my trust and made me feel unsafe. I know I'm not an angel but I've tried to fix things. It's down to him now. I had suggested we go for couples' counselling but there comes a time when I have to put myself first, my family, and also think about my career which I've worked so hard for. I also don't want to let my fans down by not being the strong woman I have become."