'Scream Queens': Emma Roberts and Glen Powell Put on Steamy Display on Filming Set
What happens when Chanel Oberlin and Chad Radwell get back together on "" season 2? A day after of Glen Powell, put on a steamy display with the actor on the Los Angeles set of the comedy-horror anthology series.
In some pictures obtained by , Powell was seen carrying Roberts as they shared a passionate kiss. The blonde beauty looked elated as her on-screen boyfriend appeared to propose to her accompanied by a mariachi band.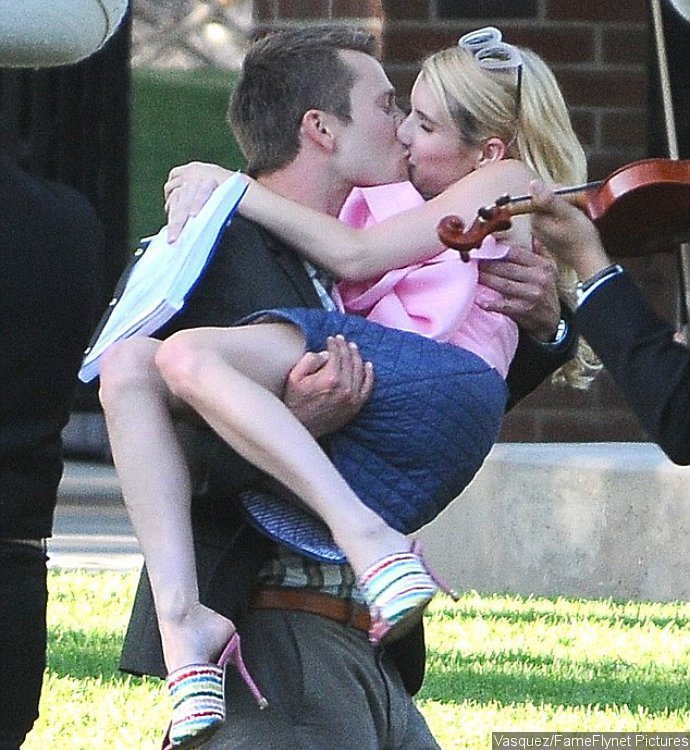 Roberts donned a pink strapless top adorned with giant pink rose and a blue quilted skirt. She completed her look with multi-colored striped stilettos and a pink handbag. Powell, meanwhile, wore light gray trousers matched with a dark suit jacket.
"Scream Queens" season 2 is set in a hospital run by ' Cathy Munsch. Also returning for the second season are (Hester Ulrich), (Libby Putney a.k.a. Chanel #5), (Sadie Swenson a.k.a. Chanel #3) and (Zayday Williams). , , James Earl, and are added to the cast as new characters.
The show returns with the new season Tuesday, September 20 at 9/8c on FOX.