The Walking Dead Cast & Crew Says Goodbye to Steven Yeun
Warning: The following contains spoilers from the season seven premiere of The Walking Dead. If you're somehow still in the dark on who died and want to stay that way, be sure to bookmark this page and return once you've watched. Proceed with caution.
You've finally stopped crying over the death of Glenn Rhee in the season premiere of The Walking Dead? Well, you might want to grab the tissues and get ready for the waterworks to start anew because tributes from the cast and crew of the AMC zombie thriller have arrived in the wake of Steven Yeun's stunning departure from the series—and, as one would expect, they're pretty emotional.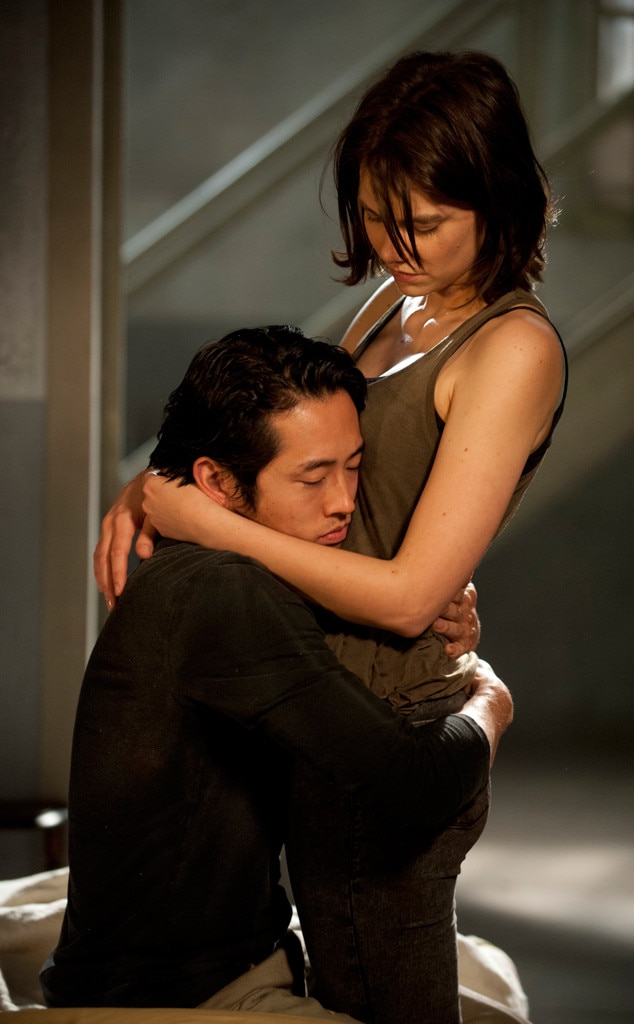 AMC
Recalling a particularly rainy Fourth of July spent at Yeun's apartment singing songs with the entire cast during her first summer on set, his on-screen wife Lauren Cohan praised the actor's professionalism and heart. "Steven has been a leading man professional on the show without ever having been any of those things before being on the show," she told EW. "You know what Steven is? He's ride or die: You know he has your back. Everything that we see in Glenn is what Steven brings to him, and that's that steady heart. I'm so excited for him knowing he's going on to do amazing things. He's the most professional gentleman and the silliest, funniest goof ever. And Steven's still alive! So that's good."
Andrew Lincoln, one of the few actors who've worked with Yeun on the series since day one, admitted that it was difficult returning to work after saying goodbye to his friend. "Steven is not only just an incredible actor, one of the most decent, funny, and beautiful guys I've ever had the fortune of meeting. He's also one of my dearest friends in life. Period," he said. "And the prospect of him not being here, it's left a huge hole in the show. The prospect of returning next year is bleaker because of his absence. His departure was seismic. And we all felt it. He is one of the founding fathers of this show. His fingerprints are on every part of it."
Fellow fan-favorite Norman Reedus told the magazine that losing Yeun was heavier than any of the other many losses the show's faced in its seven-year run. "He is one of my best friends. I was with him when he proposed to his wife. He's been on this run with me since before I even started on the show," he said. "Losing him as a character and as a guy I get to hang out with every day is a bummer. It's the last thing in the world I ever wanted to happen. You lose people on this show and you're like, 'That's how the show works,' but when you lose somebody that close to you, it just sucks.
Telling a story about Yeun's first day of filming, where the actor hadn't eaten enough to power through all the running he was going to do in the heat and subsequently blacked out on set, creator Robert Kirkman lamented that he'd no longer be able to tease him. "So we always used to make fun of him for that and he was always a good sport about it," he continued. "He was always a very fun, very uplifting, upbeat member of the cast that always kept things lively. It's really tough not having him around."
And finally, executive producer Greg Nicotero (aka the man responsible for directing Glenn's death scene) said goodbye to not only one of his favorite performers, but his favorite character as well.
"Anytime I'm anywhere on the street and people say, 'Who's your favorite character?' I always say, 'Glenn.' There's something so relatable about him, and Steven is the ultimate perfectionist. He always feels that he can do better even though he's amazing. He always wants to refine. He always wants to better himself as an actor and as a performer," he said, adding, "He's one in a million, man. The energy that he brings to set, his attitude — everything about him is A-level."
Have you processed your Glenn grief yet? Share your eulogy for the character in the comments below.
The Walking Dead airs Sundays at 9 p.m. on AMC.